Pigs are smarter than dogs, what else don't you know about pigs?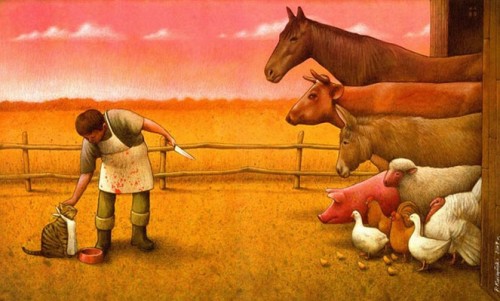 Many of us have companion animals, usually dogs, cats, or other small animals. We love and care for them. Even people who do not have companion animals may feel a connection to them, they'll tell you they love dogs, or cats. I admit, I too love dogs. But, I ask myself, thinking about the big picture, what is the difference between companion animals, the ones we care for, love and even consider family members, and the other animals whom we exploit?
Let's take dogs, for example, as they seem to be the most popular companion animal in the U.S. (where the number of households that have a dog was 56.7 million in 2014[1]), and compare them to pigs.
Pigs, like dogs, are loveable and cute, they are friendly, affectionate, loyal, and they are very smart.[2] I know it's going to shock some of you but pigs are smarter than dogs! More importantly, just like dogs they can feel pain, and they can suffer.
Those of us who know about the dog meat industry are horrified by it; indeed it's atrocious. We say, how could they be so cruel to dogs??? But, I bet if you would have a pig as a companion animal (pigs are one of the only animals Americans keep as companion animals, but also eat) you probably would be horrified by the thought of eating those wonderful creatures, and appalled by the way we abuse pigs from birth to death.
While dogs in the U.S. and many other countries are being treated with respect, care, and like family members, pigs, who are very similar to dogs, are suffering tremendously in factory farms, just to put bacon and ham on the dinner plate.
I know most of you really do not want to read about it, but especially if you do eat meat, please, please educate yourself on what WE do to those sentient creatures, and know what those smart and loving animals go through before they reach our plates.
The majority of breeding female pigs spend nearly the entirety of each pregnancy confined to a "gestation crate", a cage which is only slightly larger than their body, too small for them even to turn around or lie down comfortably.[3] As the sows get larger over the years, some cannot fit in the cages and are either slaughtered or forced to live in conditions where they can sleep only on their chests, rather than their sides as they do normally.[4] They are first impregnated at 7 months of age and live out their lives in a cycle of pregnancy, birth, and nursing until they are sent to slaughter. Shortly before piglets are born, the pregnant pigs are moved forcefully to "farrowing crates" similar to gestation crates, with only a small additional area on which their babies can nurse. The crates separate the mother from their baby piglets, are restrictive to the point that the mother pig can only stand or lie down, she cannot even turn around to see her piglets.[3] Can you imagine preventing a mother from seeing her own babies???
At only 17-20 days old, the baby piglets are taken away from their mothers. The male piglets undergo castration, both males and females have their tails cut off, many of their teeth clipped in half, and their ears mutilated, all without any pain relief!
The piglets spend the next 6 months of their lives confined to pens until they reach "market weight", they are then trucked to slaughter.[3] 
You can click here to see the life of pigs before they arrive to our plates. If you could not watch the entire video, or chose not to, then perhaps you think it is too disturbing and painful to view. And perhaps the avoidance of seeing the cruelty to the pigs enables and accommodates our state of denial. I'm sure most of us think that "if it was up to me, I would not allow it to happen". But it is up to you, it is up to all of us.
So why do we share strong emotional connections with some animals, like dogs, but find it acceptable to abuse and eat others, like pigs? I do not have an answer. Do you?
I'd love to read your thoughts and comments.
Please note: text in blue is hyperlinked.
[1] "Industry Statistics & Trends". American Pet Product Association. Retrieved March 3, 2015.
[2] Natalie, Angier. "Pigs Prove to Be Smart, if Not Vain", The New York Times, November 9, 2009.
[3] http://www.farmsanctuary.org/learn/factory-farming/pigs-used-for-pork/.
[4] Kaufmann, Mark. "Largest Pork Processor to Phase Out Crates", The Washington Post, January 26, 2007.