Delicious and super simple vegan pancakes!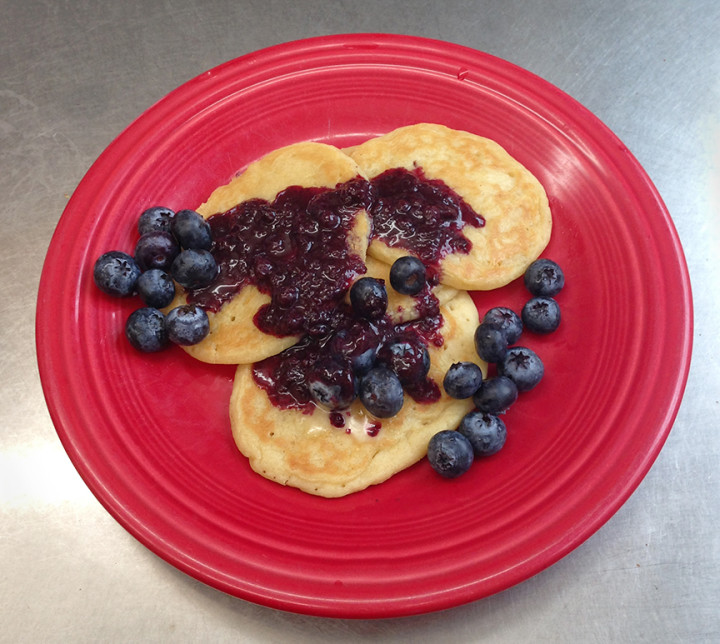 Before I became vegan, on winter weekend mornings, we used to eat pancakes filled with either caramelized apples or blueberries. I missed eating them, until my friend Robin sent me this amazing vegan pancake recipe. The pancakes are better than the non-vegan ones: fluffy, light and delicious, really!

So here is the recipe (with a few minor modifications and short-cuts I've made):
Makes enough for two humans plus an extra for dogs.
 Ingredients
 Dry:
1 1/2 cups all-purpose flour

1 teaspoon salt

1 tablespoon sugar

3 1/2 teaspoons baking powder
Wet:
1 1/4 cups soy or almond milk, with 1 teaspoon apple cider vinegar stirred into it, left to sit for about 15 minutes in a warm place (or warmed in the microwave for about 15 seconds), it should curdle

1/4 cup soy or almond milk mixed with 1 tablespoon egg replacer (optional)

3 tablespoons melted Earth Balance (vegan) butter*

1 teaspoon vanilla
 * If you can't find vegan butter where you live, try melted coconut oil.
Extra:
About 3/4 cup fresh, or defrosted frozen, blueberries
 Preparation
Combine dry ingredients together in a food processor.

Mix wet ingredients into the dry ones in the food processor, till well combined.

Oil nonstick griddle with more Earth Balance butter.

Pour 1/4 cupfuls of batter onto the griddle.

Sprinkle each with blueberries into the raw batter.

Cook until bubbles appear on the surface.

Flip and cook until golden brown.
Add your favorite fruit, pour syrup, chew!
 If you try this recipe, please let me know how it turned out! Leave a comment below and share on social media.