Can beauty be ugly?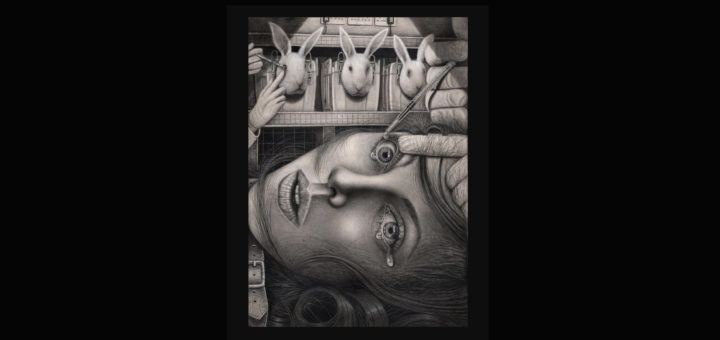 Who doesn't love beauty and cleanliness? That's why we use body care products – cosmetics[1] – shampoos, body lotions, hair conditioners, deodorants, lip balms, and more (and before the men among you leave this post, keep reading, I'm sure you also use soap, shampoo, shaving cream…). However, there is one major aspect of those beauty products that involves animals, and it's not pretty, in fact it's appalling.
Cosmetics have been tested on animals using extremely torturous methods. When I first learned that, I was shocked. Forced testing on sentient beings, humans and non-human animals, has always horrified me. My first response is to imagine myself in a lab, caged, restrained, helpless, terrified, subjected to invasive experiments and languishing in endless pain… what can be worse than that?
The absurdity is that people experiment on animals because their physiological responses are supposedly similar to ours, but ignore their pain, fear and misery, which are the same as ours. Is that ethical?
As those of you who have followed my blog know, I believe that the exploitation of animals for any purpose: food, entertainment, etc., is unethical. The notion that we are, on one hand, moral and humane, but on the other hand, use sentient, social creatures as commodities and assets to benefit ourselves, is dishonest.
Many major cosmetic companies test their products and/or ingredients on animals. Hundreds of thousands of rabbits, guinea pigs, hamsters, rats and mice, suffer tremendously during cosmetic testing. They experience a great amount of pain and agony when chemicals are applied to their eyes or skin, or when they are repeatedly force-fed with chemicals for weeks or months, until they die. I decided not to include specific details of the methods, or photos, in this post, but I've seen images and watched videos of the tortured animals, you should too.
Animal testing is not necessary. Safety information for cosmetics has been gathered through the years and cruel animal testing is being replaced by existing non-animal methods that are often more reliable, less expensive and quicker. Companies have developed novel methods based on cell culture and computer modeling, to test the safety of ingredients, replacing testing in animals. For example, NOTOX has developed a synthetic 3D model of the human liver, used to conduct toxicity testing of compounds used in cosmetics (that can also be used in pharmaceuticals). Other companies have developed reconstituted human skin and other tissue types that are used as skin and eye models, instead of rabbit irritation tests. The Food and Drug Administration (FDA) states that it supports the usage and developments of alternative methods. Keep in mind, once the safety of ingredients has been determined it is not necessary to keep testing them. Brands that choose to use new ingredients in their products and test them on animals, perpetrate extreme animal cruelty.
The European Union (EU), India, Israel, and Norway have banned the sale of animal-tested cosmetics and ingredients. Other countries are in the process of adopting such laws. Unfortunately the U.S. is lagging far behind as it does not have any laws prohibiting the use of animals in cosmetics testing. Even though the FDA does not require such tests, many companies whose cosmetics are sold in the U.S. still use antiquated, unnecessary tests on helpless animals. China requires animal testing and performs it on all cosmetics imported into the country. Brands that chose to sell in China take part in animal cruelty.
In my opinion the hype about the laws banning animal testing is overrated. Products made by companies that test on animals are still available for sale in those countries that ban animal testing. For example, in the EU, there are some loopholes in the ban that allow testing on animals in cosmetics. In Israel despite the law, I saw body care products made by companies that test on animals, such as Dove (Unilever) soap, Colgate toothpaste, Garnier hair color, Clinique products, and more. Those products are available for sale in India as well.
Most people would rather not take part in animal cruelty but support it, perhaps unknowingly, by purchasing products manufactured by firms that test on animals. You can stop your contribution to this aspect of animal cruelty by being vigilant when buying body care products for yourself, your children and companion animals.
So how should we sort out what products are not tested on animals? Mainly by relaying on organizations that certify companies as cruelty-free. The most well known and stringent international standard is the Leaping Bunny, whose symbol (see below) may or may not appear on products they certify as cruelty-free.
PETA (People for the Ethical Treatment of Animals) has a database called Beauty without Bunnies. It lists companies that meet their standard as cruelty-free. The products may or may not display their symbol.
Keep in mind that there are companies that are not cruelty-free certified but state that their products are 'Not Tested on Animals' or 'Cruelty-Free'. However, there is no legal binding behind such statements, and there is no easy way to verify the accuracy of their claims. Some firms allege their products are 'not tested on animals' but sell them in China where they are tested on animals, for example L'Oreal, Estee Lauder and Proctor & Gamble. Those cannot be considered cruelty-free.
It's easy to find certified cruelty-free products at a variety of stores. Whole Foods has personal care products that are not tested on animals, and their line, Whole Foods Market, 365, is certified on PETA'a database. Trader Joe's carries vegan and cruelty-free products. My favorite place for finding brands that do not test on animals is T.J. Maxx which carries Alba Botanica, Avalon Organics, EO, Jason, Giovanni, Yes to, and more. For lists of cruelty-free cosmetics for various stores such as Ulta, Target and more, and guides by product type, you can visit Logical Harmony (just keep in mind that some of the products determined to be cruelty-free by this website do not match PETA's or Leaping Bunny's standards). An excellent blog for cruelty-free and vegan lifestyle is Ethical Elephant.
In general, you can make sure that the product you are buying is cruelty-free by looking for the Leaping Bunny symbol on the package, and/or searching on Leaping Bunny's website, or on PETA's guide (see links below).
When buying on Amazon, Vitacost (which sells lots of cruelty-free stuff), or other websites, add the words 'not tested on animals' to your search or add the Cruelty-Free filter. Lastly, when visiting any beauty salon: hair, nails, makeup etc., make sure they carry and use cruelty-free brands, and if not, encourage them to do so.
Once we, consumers, stop buying products from companies that test on animals, they will change their ways, many already have. Together, we can make a difference and prevent cruelty to defenseless creatures.
And finally, every time you buy a product, may it be a lipstick or shaving cream, a cleaning solution or dog shampoo, know that the choice you make effects the animals who are subjected to unimaginable horror. Beauty is cruelty-free.
Resources
About Cosmetics Animal Testing
Download the Leaping Bunny app for iPhone/iPad or Android »
How to Read a Cruelty-Free Cosmetics Label
Is It Cruelty-Free? 5 Ways To Know If Cosmetics Are Tested On Animals
List of international cruelty-free blogs
PETA's guide – Beauty without Bunnies
Picture 'Beauty and the Beast' courtesy of Raj Singh Tattal
[1] The Federal Food, Drug, and Cosmetic Act in the U.S. defines cosmetics by their intended use, as "articles intended to be rubbed, poured, sprinkled, or sprayed on, introduced into, or otherwise applied to the human body…for cleansing, beautifying, promoting attractiveness, or altering the appearance" [FD&C Act, sec. 201(i)].